Our goal as a kennel is to breed healthy, stable Small Münsterlanders who are also well balanced, loving companions in the home. A dog's temperament is as significant as their hunting ability so we strive to produce truly versatile hunting dogs that can not only hunt but also be a lifelong member of a family. We do our best to match puppies with prospective owner's based on their experience with hunting and training as well as their personal lifestyle. We make sure our females are certified to breed by meeting the SMCNA and AKC breed standards. Their hips are rated "good" or "excellent" according to the OFA, or receive a reading of distraction index of less than 0.50 in PennHip.
Four Point Kennels chooses to test their promising breeding stock in the NAVHDA Natural Ability test, but also the UPT or UT test at a young age. We encourage all Small Münsterlander owners to have their dogs NAVHDA tested and become members of the SMCNA (Small Münsterlander Club of North America). NAVHDA (The North American Hunting Dog Association) is the foundation registry and testing organization used for the SMCNA. By NAVHDA using a "standard" for testing purposes, Four Point Kennels can compare our Small Münsterlanders with other versatile breeds.
Each litter is planned for the improvement of our breed and breeding program. At 8 weeks of age our puppies are evaluated for their conformation and temperament through Wendy Volhard's Puppy Aptitude Test. We offer a 6-year health guarantee on all our puppies, along with our advice and assistance in training the puppy. Our puppies are sold with their first shots, wormed, and micro-chipped. As well as registered with NAVHDA.
We want our puppies to go to the best homes possible and we want you to be happy with your new hunting and home companion. For that reason we ask prospective buyers to fill out a questionnaire before we agree to sell them a puppy.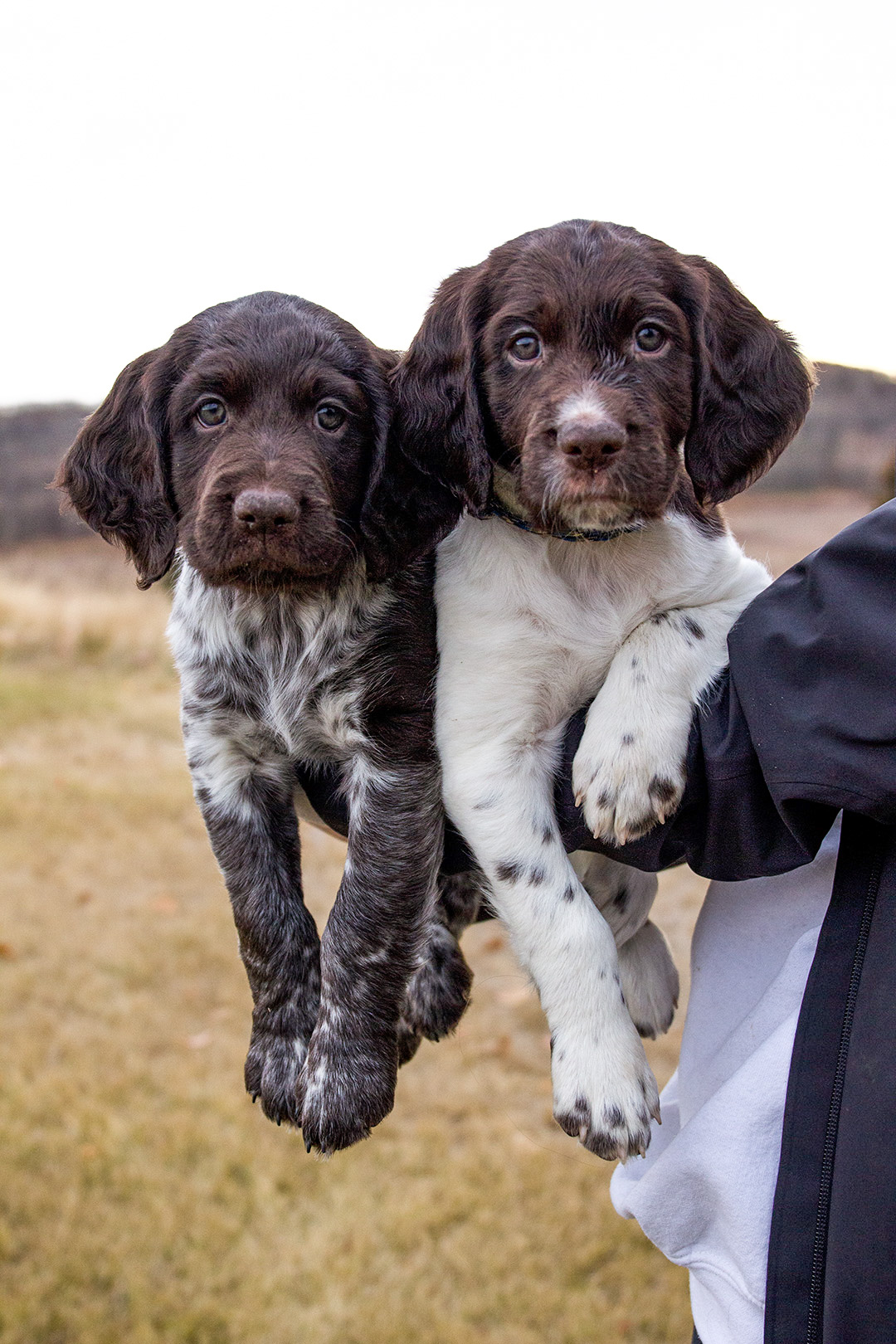 We just returned from a few weeks of grouse and waterfowl hunting in the Chilcotin with Four Point's Feather Fetcher and couldn't be more impressed. From blue grouse in the canyon lands, to ruffed grouse in the copses, to retrieving pothole waterfowl. Before this year, we've never hunted a pointer that could hold blue grouse. Feather Fetcher worked so quietly and methodically that he nearly always managed to sneak into a point, giving us many more chances that we've come to expect from years of hunting this area. We've never seen a more cheerful, instinctive and enthusiastic hunter. You are doing a fantastic job!
After having mixed experiences in the past I already knew what I wanted in a breeder. They needed to be fairly close, be avid hunters, involved at some level in NAVHDA (or similar organization) and above all conscientious. I found Four Point Kennels and reached out. In our initial conversation I think Toby and Tanner asked me more questions than I asked them. That proved to me they want to place their pups in the proper home. Fast forward… Toby found out that my GSP had passed and gave me a call. She expressed her condolences and mentioned that they had a litter planned. It should produce the kind of pup I was looking for and if it wasn't too soon, maybe I'd be interested. We picked up Four Point's Milky Way (Molly) in the spring of 2022 and the last year has been an incredible. Now granted my experience with this and other versatile breeds is limited to a few individual dogs and breeders. Given that, I will say that this dog is very intelligent, cooperative and highly trainable. Molly is enthusiastic, she loves to learn and work yet in the house is generally like a much older dog. As long as she's had some exercise, she's happy to have a nap and hang out. She was very easy to house train and is quick to pick up general obedience and basic cues. We had a great first hunting season chasing prairie birds and forest grouse and are now getting ready for our NA test this spring. Toby has been a great resource. She kept us up to date on the litter's progress right up to when we brought Molly home. Since then Toby has been incredibly responsive to any and all questions. This is the kind of breeder you want. I should also mention that their kennel is clean and looks well maintained. All of their dogs appear happy, healthy and well cared for.
Four Point Kennels is not just a breeder - they are knowledgeable, hands-on, and experienced dog owners. When we were looking for a bird dog to add to our family, we wanted to find a breeder who was approachable and reliable. Four Point's ethical and professional attitude towards breeding Small Munsterlanders is only one reason why we chose to bring one of their pups into our lives. Tanner have educated himself to ensure only the best blood lines of Small Munsterlanders are bred, they have met the requirements set by the SMCNA for breeding, and they stand by the health of their dogs. If you are looking to add a hunting dog to your family, we highly recommend Four Point Kennels – you won't regret your experience.
Tanner took the time to have me out to his property, show me the dogs, and put them to work on some birds. The way he answered my questions I could tell they take their breeding seriously and are working very hard to create a great bird dog with a good temperament and great conformation. After watching the dogs work, I was sold. This is a great versatile hunting dog!